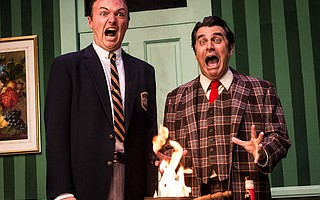 Wednesday, October 18, 2017
With one foot in the 18th-century commedia dell'arte classic Servant of Two Masters and the other in the Brighton, U.K., underworld of the early 1960s, One Man, Two Guvnors is wild, effective, and consistently funny. As Francis, the hapless harlequin who is the "one man" of the title, Michael Bernard gives a terrific, nonstop performance that's equal parts physical comedy and sly underdog wit. Dillon Yuhasz provides excellent support as one of the guvnors — upper-class twit Stanley Stubbers — and Shannon Saleh is hilarious as the other guvnor, Rachel Crabbe, a role that calls for her to impersonate a man for much of the show.
Director Rick Mokler issued a major challenge to his cast from the outset by asking that everyone also play an instrument and sing in at least one of the dozen or so musical numbers that punctuate the scenes. Although it is not a musical, as the songs (with one minor exception) do not make direct reference to the characters or plot of the play One Man, Two Guvnors nevertheless presents a hybrid entertainment, mixing the sounds of skiffle with fast-paced comic dialogue and pratfalls, many of which belong to the talented clown Matthew Tavianini. Jay Carlander plays guitar and banjo and sings on several numbers, as well as playing the role of Lloyd Boateng, a tough chef who's done hard time. Tiffany Story cuts an impressive figure as the hot accountant, Dolly, and Justin Stark gets plenty of laughs playing Alan Dangle, a dimwitted actor. Overall, this show is great fun and an excellent effort by The Theatre Group at SBCC.