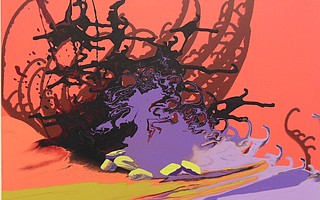 Wednesday, October 11, 2017
In what has to be the most delightfully named gala of the season, The Arts Fund will hold a pop-art carnival called Pop! Bang! Pow! at its headquarters in the Funk Zone Saturday, October 14, 2-8 p.m. Fusing motifs borrowed from comic books and carnies with art and music inspired by psychedelic rock, the event will transform the corner of Santa Barbara and Yanonali streets into an irresistible cosmic trip. Artist and SBCC design instructor James Van Arsdale has curated Astronauts of Inner Space, a show of psychedelic pop art featuring work by Jane Callister, Stephanie Dotson, Warren Schultheis, Kerrie Smith, and Van Arsdale. It's full of biomorphic shapes and eerie abstractions inspired by such pop-art icons as Peter Max and Nicholas Krushenick.
Outside on the carnival midway, guests will be treated to an aerial dance performance, deejays, a magic show, silk screening, and plenty of good food, beverages, and prizes. With so many organizations opting for more formal events and expensive live auctions when they raise funds, it's a pleasure to see The Arts Fund taking such an irreverent and suitably adventurous tack with Pop! Bang! Pow! See popbangpow.nightout.com, email popbangpow@artsfundsb.org, or call (805) 965-7321.