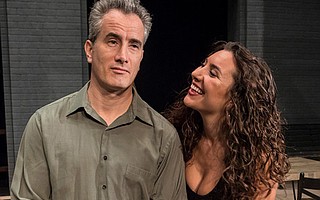 Tuesday, October 10, 2017
While it's hard to imagine Annie Hall (1977) or Manhattan (1979) making an effective transition to the contemporary theater, Jonathan Fox's adaptation of Woody Allen's 1992 film Husbands and Wives succeeds in bringing the full range of the director's complex and nuanced writing for the screen to the stage. One reason it works so well is that Fox has assembled an excellent cast. Another is the innovative use of a live video feed that allows the audience to observe the action from multiple angles and to follow the characters into the wings for some of the show's wildest scenes.
Gabriel Marin and Lesley Fera are funny and believable as Gabe and Judy, the wistful, sporadically self-aware couple at the center of this eccentric and rapidly expanding circle of friends and lovers. As Jack, Douglas Dickerman plays a stalwart defender of the double standard, carrying on an affair with his aerobics instructor, Sam (Emily Goglia), that causes him to leave his wife, Sally (Alicia Sedwick), and then bursting in on Sally when she beds Michael (Jeff Lorch), Judy's pal from work. Gabe's romance with his Columbia creative-writing student, Rain (Emily James), peaks and flames out in a dramatic thunderstorm on her 21st birthday. The trademark Allen one-liners fly, yet an insistent sense of midlife foreboding keeps the whole thing grounded in a kind of existential reality principle.