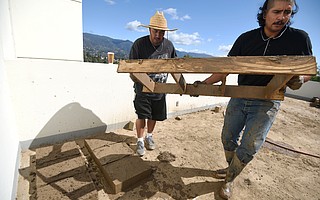 Wednesday, October 4, 2017
Ask anyone who ever attended public or Catholic elementary school in California about their 4th-grade mission project, and it's likely you'll hear a story involving popsicle sticks, sugar cubes, and glue. For Los Angeles artist Rafa Esparza, that longstanding and controversial aspect of the state's school curriculum has become the point of departure for a unique site-specific performance-art/installation practice that has lately taken him a lot farther than the school gym or even the missions. Instead, Esparza, along with the young Latinx artists that he enlists as partners, has been building adobe structures on sites as well known as the Hammer Museum and the Ballroom Marfa, and in exhibitions as prestigious as the 2017 Whitney Biennial.
Drawing on both the proximity of the Santa Barbara Mission, where Esparza was taken with his 4th-grade class, and the equally ubiquitous, school-skewed history of the Mesoamerican ball court, he and his helpers have constructed a room within a room made entirely of traditional adobe bricks. This consensual and collaborative effort uses actual earth to address and imaginatively undo the violence of the colonial enterprise. On Friday, October 6, the resulting work will be blessed by a Chumash elder at the opening; throughout the rest of the evening and the exhibit there will be performances and activities designed to raise cultural awareness around the complex and ongoing issues pertaining to colonialism, indigenous people, and the status of the work of art.