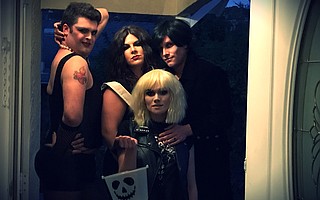 Thursday, November 9, 2017
The once-shocking, now-venerable Rocky Horror Show continues to rule at the box office, especially around Halloween. Out of the Box did an excellent job of bringing this monster of a musical to life, with great performances from Alex Allen as Dr. Frank N. Furter, Marisol Miller-Wave as Magenta, and Zachary Allen Thompson as Riff Raff leading the way toward the only destination that matters in a Rocky Horror production: over the top. Jenna Scanlon was a wonderfully archTK narrator, and Sio Tepper kept the musical momentum going at full speed throughout the show's more than a dozen numbers.
Special credit is due to this production's Brad (Dillon Yuhasz) and Janet (Allison Lewis). Yuhasz was spot-on with the comedy, and Lewis's clear vocals gave Janet an engaging presence that enhanced the overall impact of an already wild night. Kelly Sparrman, Mitchell Lam Hau, and Todd Tickner were all perfectly cast, and the audience on Thursday night outdid itself with the show's famed callout lines and props. When two audience members took the stage with the cast during curtain calls, it came as the surprise of the night that they were there for a very public proposal of marriage. She did!