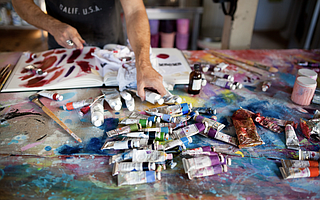 Santa Barbara County's nonprofit arts and culture sector is a $200 million industry that supports 6,000 jobs and annually generates $20 million in local and state tax revenue. Audience spending on restaurants, hotels, and transportation pumps another $70 million into the county's economy every year.
Those were some of the Santa Barbara-centric takeaways of a national economic impact study of nonprofit arts and cultural organizations. The study ― Arts & Economic Prosperity 5 ― collected data from 250 regional partners, including the Santa Barbara County Arts Commission, which assembled financial information from 93 participants.
"These financial metrics, while incredibly compelling, don't even tell the whole story," said Sarah Rubin, executive director of the County Office of Arts & Culture. "They represent about half of the arts and culture nonprofits in the county ― those that had the time to participate."
The local industry supports more jobs than many of Santa Barbara's largest institutions -- Cottage Hospital (3,790), Santa Barbara City College (2,280), and the Chumash Casino and Resort (1,716). "I have to believe that the numbers in this report will remind people that the arts are not a 'charity' but rather a significant benefactor to our local economy," Rubin said. "Nationally ― and we rank far above the median ― arts represent 4.2 percent of the GDP. That's a larger share of the economy than tourism, agriculture, and construction."
A recent report by the Center for Cultural Innovation in Los Angeles found that, out of 367 municipalities studied across the country, Santa Barbara ranked 9th for active cultural practitioners, meaning those who earn income from their art. Looking ahead, Rubin said thinking around arts and culture should expand to include chefs and vintners, "our culinary artists." "From Michelin and James Beard-award winning culinary geniuses to Hollywood and the Academy to rock-and-roll musicians, producers, and venues, arts define who we are as Californians."