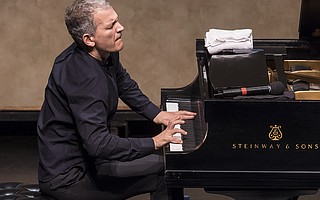 Wednesday, November 1, 2017
The buzz around this show was enormous, and Brad Mehldau's performance nevertheless exceeded even those high expectations. Jazz has always been about achieving a balance between structure and improvisation, and this performer strikes that equilibrium at a higher level and to a greater degree than virtually any other musician of his generation. The show on Saturday played both to the pianist's many strengths and to the deepest feelings and memories of the delighted audience.
After opening with a pair of beautiful standards, "It's All Right with Me" by Cole Porter and "When I Fall in Love" by Victor Young and Edward Heyman, Mehldau then shifted into West Coast mode by way of "West Coast Blues" by Wes Montgomery. The latter was a magnificent demonstration of Mehldau's Ellingtonian command of tone and nuance in the blues idiom. His right hand did things one would not have thought possible. From there, he settled into a rock groove that was thoroughly irresistible and included transcendent versions of the following, in order: The Beatles' "The Fool on the Hill," Led Zeppelin's "Going to California," Neil Young's "Don't Let It Bring You Down," and Bob Dylan's "Don't Think Twice, It's All Right." No one who witnessed this extraordinary concert will forget the directness with which Mehldau communicated through these timeless classics.