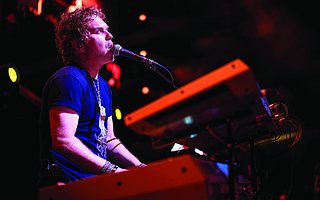 Every now and then, a mega-famous rock star such as Steven Tyler calls you up and tells you they need you to play keyboard at an Aerosmith show in Istanbul in 48 hours. This very thing happens, at least, when you're someone like Buck Johnson, the über-talented pianist and synth player who will play a mix of originals and covers at The Red Piano on Tuesday, March 7, at 8 p.m. In a matter of hours, the Alabama native found himself playing for 20,000 people in Sofia, Bulgaria (the Istanbul show having been canceled due to a mining-disaster-related riot), with his "feet to the fire," barely a night's sleep to his name. "I seriously thought I was still dreaming," he said. He had practiced for this but was a little nervous. "I just didn't want to mess up 'I Don't Want to Miss a Thing' in front of 20,000 people."
Talking to him, though, it can be hard to imagine Johnson being nervous, or ego-inflated for that matter, about the gig. For the Southern solo rocker and Aerosmith touring keyboardist who grew up singing church harmonies with his family, music is a communal thing — less about the individual, more about the group. "It was all harmonies, and all parts were important — if someone wasn't there, you'd take their part," he said. "Singing with others, it's a special thing; it's the instrument that comes from within. When you're singing with others, you're breathing the same breath." Those are fitting words for The Red Piano, where sing-alongs are encouraged.
He did find a lot of inspiration when singing with Steven Tyler. While "he runs around stage for two hours like a teenager," Johnson says, "there's a whole lot more going on: the way he phrases stuff, his intonation, his attention to detail."
Johnson is also a solo artist of his own merit, and his new album, Enjoy the Ride, cowritten with hit producer/songwriter Charlie Midnight, shows why he earned the admiration of the rock titans, with his dedication to Southern country-rock craft. "Writing and producing my own songs, or producing and mixing other artists, it all works together," said Johnson. "It's very fulfilling to be a part of the art at each step."
Buck Johnson plays The Red Piano (519 State St.) on Tuesday, March 7, at 8 p.m. See theredpianosb.com.