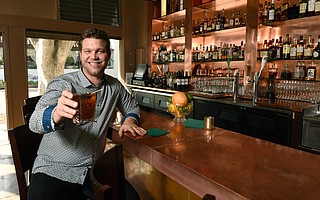 Despite the lyrical wisdom of Pink Floyd, we do need an education, especially when it's a Gin Education Dinner. Just ask craft distiller Ian Cutler of Cutler's Artisan Spirits, who is willing to be our teacher for the evening on June 12. "As opposed to whiskey, when it comes to gin, it's still a mystery spirit to many people," Cutler opines. "They often don't even know what the key flavor is, let alone there are multiple styles."
So think of the dinner/tasting that Cutler has developed with Phil Wright at Bar 29 as a way to lose your ginnocence, so speak. After a three-course meal paired with cocktails featuring jenever/London dry, Old Tom/barrel-rested, and New Western/sloe gin, you'll know all about that key ingredient juniper (the taste gin-o-phobes often call Christmas tree), plus a whole bunch of history. Along the way you'll have eaten a strawberry goat cheese salad, a Wagyu beef slider with bacon onion jam, lemon aioli and garlic fries, and sesame-ginger flat iron steak lettuce wraps with peanut sauce.
Cutler, always for "getting more knowledge out," has often had a hand in public events, and when recently talking to Wright mentioned he hoped to do a gin dinner. Before he knew it he was pleased to have a partner, for as he says, "They've got some classy cocktails at Bar 29."
Cutler – who currently only makes a New-Western style gin (that is, not just a slap of juniper, but something a bit more floral with some distinct citrus notes) – sums up the evening this way: "I'm just trying to fill that information gap about gin. It also helps me get out in the community, not just to get people to know my products but to know the more global sense of gin."
411
Don't end up under the host at Cutler's Artisan Spirits Gin Education Dinner, Monday, June 12, 6:30 p.m. at Bar 29, 1134 Chapala St. Tickets are $65 per person, plus service fee (inclusive of tax and gratuity). For tickets and more information nightout.com/events/bar29gindinner/tickets.