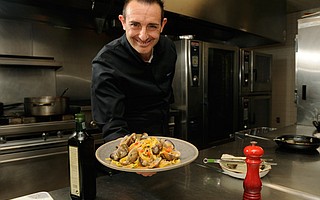 Thursday, January 12, 2017
Talking with Marco Fossati — executive chef at the Four Seasons Resort The Biltmore since May — is a thrill, as he tosses out ideas, words, and even his hands in a wonderful expression of creativity and passion. That energy is already transforming what's happening with the food at the hotel, as he leads his team of 82 cooks and seven chefs so that room-service breakfast is as fabulous as the most spectacular wedding feast.
Check out his mussels, for instance, currently on special every Tuesday at Ty's Lounge. Of course, they're local (Hope Ranch or Morro Bay), and, of course, they're cooked perfectly (done but never rubbery). But the kicker is the range of sauces, from traditional Dijonnaise rich in wine, cream, mustard, and parsley to a Thai redolent of lemongrass, coconut milk, and red chili, yet enriched by wine, too. These are luxurious mollusks, their sauces ready to be sopped with hearty bread or fries.
It's no surprise that Fossati can oversee such deliciousness. He's been a chef for nearly 30 years, having worked in his native Italy as well as France, Germany, Egypt, and, for the last six years, as the executive chef for the Four Seasons in Palo Alto. "I like to learn; I like to grow," he said of his early-career itinerant ways. "My attitude now is to push my chefs and not let them get too comfortable."
In Montecito, Fossati is stepping into the formidable toque of Alessandro Cartumini, who transferred to Four Seasons Hualalai; the two are longtime compadres, and Alessandro was the best man in Marco's wedding. "In the kitchen, we are totally different, but that's what makes us friends," Fossati explained. "The concepts are different. I like more of the changes, I like to think out of the box, I like to break the rules."
That rule-breaking includes taking advantage of The Biltmore's certification to cure meats. It's the only restaurant in Santa Barbara with such licensing and only one of 12 in the state. "Making more charcuterie, this is what gets me excited," he said. "In Italy, you can get cacciatorino — little curved salami — at stores, and I want to introduce this." He's also eager for the arrival of a Burkett slicing machine to install at Bella Vista. "In Italy, charcuterie is à la minute," he said. "There's a huge difference between a salami cut and sitting for an hour and one just cut before you eat it."
Beyond bresaola, he's planning changes for breakfast bowls, "upgrading the classics" (think oyster Rockefeller on bruschetta), exploring partnerships with regional breweries, and developing his take on piadina (the Italian crêpe) for lunch specials. "At the end of the day, I like three or four items on the dish instead of the mix and match of too many ingredients," he said. "Simple is better. That's why I like to change the menu. Let's get moving! Let's discover new combinations without going too crazy."
1260 Channel Drive, (805) 969-2261, fourseasons.com/santabarbara