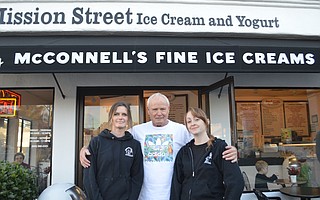 Wednesday, February 8, 2017
The McConnell's ice cream and yogurt scoop shop on Mission and De la Vina streets has changed its name to Mission Street Ice Cream & Yogurt — Featuring McConnell's Fine Ice Creams. Nothing else has changed. The shop still has the same owners, same employees, and same McConnell's Fine Ice Creams and freshly made yogurt.
About four years ago, the ownership of the McConnell's brand and factory changed, and shortly thereafter, they opened their own store on State Street. To alleviate confusion from having two McConnell's ice cream shops in Santa Barbara with two different owners, the privately owned store on Mission changed its name through a mutual agreement. According to Bob and Jean Moss, the owners of the newly renamed and still privately owned and operated store, they still carry 30 flavors of McConnell's ice cream with new flavors coming all the time, plus fresh yogurts made in-house daily for endlessly customizable topping treats. "The more things change, the more they really stay the same," Bob Moss said.