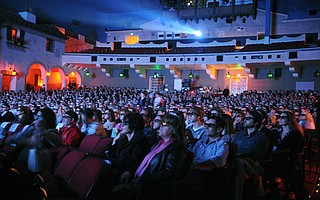 Thursday, February 2, 2017
You just got out of the 11 a.m. documentary about North Africa and plan to hit that Norwegian thriller at 2 p.m., but you're starving. Or you need some eggs and coffee before joining the early birds for the 8 a.m. Italian comedy, but nothing seems open. Or that on-screen investigation of the latest environmental catastrophe requires a post-flick stiff one before you hit that celebrity tribute at the Arlington.
Over the next 10 days, these and many other food-and-drink-needing scenarios will be daily concerns for the thousands who attend the Santa Barbara International Film Festival. To guide you through, we've asked our downtown-based staff for their suggestions, and here are some of their top tips.
Breakfast and Coffee
Dawn Patrol (324 State St.): Usual breakfast fare with specialties including build-your-own hash browns; baked goods such as the Prisoner Egg Muffin; strong, organic coffee; and loose-leaf teas. Get there before 8:45 a.m. if you want to eat inside, or bring proper clothing and eat on the patio. (Paul Wellman, photographer)
Joe's Café (536 State St.): Best sit-down breakfast place near Metro 4. Go for biscuits and gravy egg sandwiches. (Nick Welsh, executive editor)
Daily Grind (2001 De la Vina St.): Close to downtown with ample parking, superb breakfast burritos, fresh juices, coffee — everything you'd ever want before 8 a.m. (Brandi Webber, sales rep)
Peet's Coffee (1131 State St.): Quick cup of quality joe, minus a bustling hipster scene. (Kelsey Brugger, news reporter) The courtyard in back is one of the best-kept non-secret secret spots, hidden right out in the open. (NW)
Judge for Yourself Café (1218 Santa Barbara St.) and Garrett's (2001 State St.): Both greasy and good, slightly off the beaten path, quick, and open early. (Tyler Hayden, senior editor)
Lunch
Sachi Ramen and Robata Bar (721 Chapala St.): Great for warm, soupy noodles. (Jean Yamamura, opinions editor)
Three Pickles (126 E. Canon Perdido St.): The best Reuben in town. (JY)
Savoy Café & Deli (24 W. Figueroa St.): Great spot for any vegetarians/vegans looking for something quick. Their salad bar is amazing, and their vegan burrito is bomb (and easy to hide in your bag). They also have a grab-and-go section and a large variety of water, kombuchas, cold brew, etc. (Emily Cosentino, marketing director)
Rincon Alteño (115 E. Haley St.): This taquería is genuinely great, and there's never a crowd to fight. The chile relleno burrito is a meal for two, but once you start eating, you won't want to share. (NW)
C'est Cheese (825 Santa Barbara St.): Great salads, sandwiches, and cheese. What else could you ask for? (KB)
Hana Kitchen (5 W. Haley St.): Fast and yummy, with hella good prices. (TH)
South Coast Deli (10 E. Carrillo St.): Order and pay online for easy pickup of tasty yet affordable sandwiches and filling salads. (Matt Kettmann, senior editor)
Snacks
Rocket Fizz (1021 State St.): The perfect place to stock up on candy. They have a great selection of taffy, plus weird/cool Asian and Euro candies you've never heard of. (TH)
Renaud's Patisserie & Bistro (1324 State St.): To stockpile on the way into the movies, they have the best pastries. (NW)
Cantwell's Market & Deli (1533 State St.): Lots of premade snacks that taste homemade. And it's off the beaten path, so it won't be jammed. (KB)
Lilac Pâtisserie (1017 State St.): All sorts of sugary goodies, many of which can fit in your pocket or purses; gluten-free friendly. (TH)
Drinks
The Good Lion (1212 State St.): Thoughtfully crafted, meticulously made drinks presented with explanations and flair, usually by dudes with mustaches. Great sherry and vermouth selection, too. (MK)
Bobcat Room (11 W. Ortega St.): This cool spot for farm-fresh drinks has a bit of an older crowd than the Wildcat next door. (Laszlo Hodosy, sales rep)
milk & honey (30 W. Anapamu St.): Craft cocktails that are reasonably priced. (KB)
The Pickle Room (126 E. Canon Perdido St.): Stiff Drinks. Reuben Egg Rolls. Say no more. (KB)
Dinner
The Black Sheep (26 E. Ortega St.): They've got happy hour at 5-6 p.m., and ramen is just $10. (BW) The ramen might be the best in town and is reasonably priced. Plenty of other tasty, creative dishes, too. Excellent bottled beer selection. (KB)
The Palace Grill (8 E. Cota St.): Get there at 5:30 p.m. to get right in and order yourself some quick gumbo and dirty rice. They'll throw in the corn muffins for free. Terrifically dangerous martinis, too. (JY)
Benchmark Eatery (1201 State St.): The pozole verde (hominy, tomatoes, onion, lime, jalapeño) is nothing close to traditional pozole, but the large serving is hearty, tangy, and filling — the perfect in-between movie meal. (Terry Ortega, events editor)
PizzaRev (12 W. De la Guerra St.): Don't like plugging chains, but it's perfect for a fast pizza fix at low cost. (TH)
Late Night
Roy (7 W. Carrillo St.): Tried, true, and tested for full sit-down meals until midnight. (TH)
The Blue Owl (5 W. Canon Perdido St.): It's as close as we get to a bustling Southeast-Asian night market, with night-reviving flavors that burst you back to life, like in their Thai basil burger, shrimp roll, and fried rice. (Richie DeMaria, assistant editor)
Little Kitchen (17 W. Ortega St.): Indulge in comfort foods and feel sophisticated about it, too, in their deliciously gourmet bites such as bánh mì sliders, brioche breakfast sandwiches, and a Southwestern chicken tikka masala. (RD)
Romanti-Ezer (701 Chapala St.): Mole has a way of tasting better at midnight, a pleasure you can enjoy here in the moonlight with their famed mole burritos or enmoladas, and wash it down with horchata. (RD)