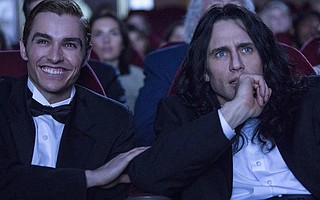 Tuesday, December 19, 2017
Like the great bromantic comedies of the 21st century — think Superbad or The Hangover — The Disaster Artist is, in large part, a study in human pathos. James Franco and his younger brother Dave costar, respectively, as Tommy Wiseau, the real-life writer, director, producer, and lead of allegedly the worst movie ever made, 2003's The Room, and Greg Sestero, who befriended Wiseau when they were both aspiring actors. Wiseau is as notorious for the sheer badness of The Room as he is for the quirks of his public persona, which include a flamboyant wardrobe, notably unconventional speech patterns, and a mysterious past.
It's hard to portray someone who's virtually a living caricature without seeming to overact, but James Franco nails the balance of control and excess that the role requires, rendering Wiseau both laughable and sympathetic. Dave Franco, meanwhile, is the perfect earnest, trusting foil who gets caught up in Wiseau's big dreams and stifling demands. The tragedy of this bromance is that it's still only men who get to be so ridiculous as to be laudable, and to make art considered so bad that it's elevated to the status of greatness.