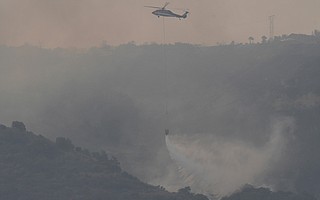 Originally published December 6, 2017 at 10:45p.m., updated December 7, 2017 at 02:25p.m.
[Update: Thursday, 2:25 p.m.] It's been at least 15 years since Ventura County has experienced sustained sundowner winds blowing hard out of the east in the month of December. That's according to Andrew Madsen, public information officer for the U.S. Forest Service, which is now getting more involved in efforts to staunch the spread of the Thomas Fire. When winds exceed speeds of 30 miles an hour, Madsen cautioned, it's not safe to dispatch fixed-wing aircraft into the fray. Currently, he said, there are seven fixed-wing air tankers secured for the Thomas Fire. They go up, he said, as conditions allow. The good news is that weather forecasts project diminishing wind speeds this evening and through the weekend. The red-flag conditions, Madsen said, are projected to end Sunday at 8 p.m. But what happens in reality does not always conform to such predictions. "These winds have a mind of their own," he said. "If they want to pick up, they do so no matter what's written down on paper."
As the Thomas Fire encroaches further into Forest Service land, Madsen said, his agency has been scrambling to marshal resources to throw at it. Firewide, the Thomas Fire is now commanding the attention of 2,500 firefighters. On the eastern flank, the fire has come "perilously close" to the site of the former Matilija Fire, which last burned in 1932. That fire burned 220,000 acres — no homes or lives lost — making it, even now, the fifth-largest fire in state history. "There's an abundance of decadent fuel beds there," noted Madsen, accumulating over time for "decades and decades."
One of the challenges posed by the Thomas Fire is the abundance of long-accumulating fuel coupled with dry conditions and, of course, the wind. The most recent fire in the area — the Wheeler Fire — took place in 1985, burning 118,000 acres. The biggest fire in the region remains the Zaca Fire from 2007, which burned 240,207 acres.
[Update: Thursday, 12:10 p.m.] As fire crews amass along Highway 150 and Bates Road just east of Carpinteria, the air attack continues as water tenders attempt to cool the southwestern flank of the fire, now burning in the hills just to the east of Highway 150. Winds are relatively calm, though they are forecast to pick up slightly through the afternoon and evening hours.
While some unofficial reports circulating on Facebook have suggested that the fire has jumped Highway 150 near Carpinteria, Mike Eliason, a public information officer with Santa Barbara County Fire, says he's seen no indication of this. Further to the north and east, however, Unified Command was unable to definitively say whether or not the Thomas Fire had made the jump north of the 150 closer to Lake Casitas. That area remains of concern as satellite heat imagery has detected hotspots along the 150 in that area.
[Update: Thursday, 9:57 a.m.] Authorities with Ventura County Fire Department confirmed that a body was located Wednesday night in the Wheeler Canyon area outside Santa Paula. The body was found at the scene of a car accident and the cause of death is unknown, according to a public information officer who could not confirm reports that the deceased is female.
[Update: Thursday, 7:27 a.m.] As of 7:25 a.m., both northbound and southbound lanes of traffic on Highway 101 are open. The latest evacuation numbers from Cal Fire put the total number of residents evacuated ahead of the Thomas Fire at 88,000. Evacuations are beginning to take place in Santa Barbara County along the eastern border with Ventura County, where eastern Carpinteria is still under an evacuation warning, while the community of Rincon has been evacuated almost entirely as of 1:52 a.m.
[Update: Thursday, 6:45 a.m.] At 1:52 a.m. today, the voluntary evacuation warning issued for parts of Carpinteria closest to the Ventura County line turned into a mandatory evacuation for about 300 Carpinteria residents, specifically in the mountains near Highway 150 and the Rincon Point community.
Explained the County of Santa Barbara's Thomas Fire website:
"The Santa Barbara County Sheriff's Office, under the direction of the Unified Command, at approximately 1:45 a.m. this morning, December 7, evacuated approximately 300 residents in the Carpinteria area as the Thomas Fire was threatening the community. This area was previously under a voluntary evacuation warning area. The evacuations included the area E. of Highway 150 from Rincon Hill Road South to the 101 and included Bates Road and the area known as Rincon Point at the south end of Bates Road."
Additionally, Highway 101 and Amtrak train travel were halted overnight, though at least southbound routes are open now. Among other, more serious impacts, this will delay the usual Thursday-morning delivery of the Santa Barbara Independent. At 6:45 a.m., the Goleta Union School District canceled all classes for the day.
Meanwhile, as day breaks on Thursday morning, the skies are smokier in the Santa Barbara region than they have been all week, the rising sun unable to be seen through the haze. The current statistics have the fire at 96,000 acres, with only 5 percent containment.
[Update: Thursday, 3:44 a.m.] Virtually all of the city of Ojai is under a mandatory evacuation order, according to the latest County of Ventura Office of Emergency Services map and Thomas Fire Incident Command. The area — roughly 35 square miles — covers downtown Ojai, up along Highway 33 through Wheeler Springs, west into Matilija Canyon, and north into Rose Valley. Satellite fire detection by the National Interagency Fire Center is registering active and recent fire throughout the northern swath of the Ojai Valley. Additionally, much of northern Santa Paula — an area of 15 square miles — was moved from an evacuation warning to an evacuation order as fire activity increased throughout the night there as well.
In the early hours of Thursday morning, Sergeant Eric Buschow of the Ventura County Sheriff's Office, who is serving as a public information officer for Incident Command, said, "We've been listening to radio reports from firefighters throughout the night, and it sounds like there is active fire throughout the Ojai Valley. I have no way of describing this incident in any way other than devastating. Absolutely devastating."
[Update: Thursday, 12:52 a.m.] According to Kelly Hoover, the Santa Barbara County Sheriff's public information officer, the Sheriff's Office is monitoring the situation around Carpinteria closely. At approximately 8:38 p.m. on Wednesday, a voluntary evacuation warning was called for the eastern reaches of the city. "With a voluntary evacuation, we're getting the word out that now is the time for people to start preparing to leave, gathering their items, their pets, and we're working to assist people with special needs," Hoover noted.
"What's concerning about the evacuation warning is that warnings end up turning into mandatory evacuation orders. You're probably going to be evacuated, so start preparing now. People should take warnings seriously. If [the evacuation] becomes mandatory, deputies will start going door-to-door and phone calls will go out. We're ready to spring into action if the situation deteriorates," Hoover explained.
[Original story: Wednesday, 10:45 p.m.] Just 48 hours after igniting north of Santa Paula, the Thomas Fire has exploded in size and traveled over 20 miles to the south and west, burning "actively with extreme rates of spread," according to Cal Fire. Fanned by one of the longest periods of sustained Santa Ana winds in recent memory, the blaze has now swelled to 90,000 acres, with a marginal 5 percent containment achieved on Wednesday.
The new tally on acres burned — an increase of nearly 40 percent over the course of Wednesday — is due to a number of factors, according to Scott Quirarte, a public information officer with Incident Command. Winds let up slightly, allowing pilots to get in the air and "collect better intel" on the fire's growth, as well as work on direct fire suppression. Many South Coast residents expressed concern over the lack of air support in the opening 48 hours of the blaze, but Quirarte assured that aircraft are flying whenever conditions allow.
While winds weren't blowing as intensely on Wednesday, Quirarte indicated that major growth has taken place on the western and northern sides of the fire, both above Ojai and off Highway 33, in the broad swath of coastal range between Foster Park near Lake Casitas and La Conchita. There's no word yet on the hundreds of oil-drilling pads that pockmark the coastal foothills above that area.
Down at the water's edge, in the communities of Solimar, La Conchita, and Mussel Shoals, firefighters have managed to prevent any structure loss or damage as of Wednesday evening, despite aggressive winds and the Thomas Fire's jump across Highway 101 on Tuesday night. These areas remain of concern, however, with mandatory evacuation orders in place and residents evacuating through the afternoon.
Further north in Ojai, where a voluntary evacuation scenario blankets the entirety of the city, Quirarte says defending the city is "one of our main priorities." He said of the situation there, "There's lots of open fire line, plus wind, dry brush ... it's a very big concern. Paired with the coastal area burning, and the northern side via Ojai, a major concern is backcountry growth."
Incident Command's concern stems from the vast Santa Ynez Range, which joins Santa Barbara, the rest of the South Coast, and Ojai. The mountainous spine of rugged, dry terrain runs east–west, and the eastern end hasn't burned since the Wheeler Fire in 1985. With Santa Ana winds gusting out of the north and east, there's concern the Thomas Fire could establish itself directly north of Ojai and make its way westward via the backcountry while simultaneously heading west along the coast.
As of 8:38 p.m. on Wednesday, a voluntary evacuation warning had been issued for the eastern reaches of Carpinteria, where Santa Barbara County administrators are readying should the Thomas Fire blow across the county line. Quirarte said he wasn't aware of a contingency plan for the western flank of the fire. As Santa Barbara County officials prepare for this scenario, generators continue to be used to power some critical equipment as a precautionary measure, according to county communications manager Gina DePinto. Southern California Edison notes on its online information portal that "the system could face additional strain and customers in the affected areas could lose power" but has otherwise been unresponsive in providing additional information.
As multiple fires rage in the Los Angeles area, Thomas Fire Incident Command noted that no personnel or resources had been diverted to those fires, despite the intermittent closure of Highway 405 in west L.A. and dozens of homes threatened there. Personnel assigned to the Thomas Fire had ballooned to nearly 2,500 as of Wednesday evening.
While winds cooperated on Wednesday, there's concern about gusty winds forecast—red flag warnings remain in effect across Los Angeles, Ventura, and Santa Barbara counties, lasting through Friday and Saturday. Quirarte noted, "It all depends on how the night goes for us, and how the weather pans out tomorrow. We're taking what action where we can and getting ready for the change."
Newly Issued Evacuations
In addition to all previously issued evacuations (below), and as of 11:00 p.m. Wednesday:
In Carpinteria, the voluntary evacuation warning is for the following areas:
All areas from the 5500 block of Casitas Pass Road (Hwy 192) east to the county line to include Lillingston Canyon and Cate Mesa, and all addresses north to the county line.
All addresses along the east side of Bailard Avenue from Highway 101.
All areas south of Highway 101 to the coast and east of Dump Road, to include all of the Bates Road and Rincon areas.
A voluntary warning means residents should prepare their belongings and vehicles should a mandatory warning go into effect. The County of Santa Barbara advises those with mobility difficulties or issues, or who own large animals, to consider early evacuation.
Continuing Evacuations
Mandatory Evacuations (as of 7:30 a.m. on Wednesday):
City of Santa Paula - Boundary of Say Road north to Thomas Aquinas, Dickenson Ranch Road east to Santa Paula Creek
City of Santa Paula - Boundary of Monte Vista Street north to city limits, Foothill Road from Steckel to Peck Road to north of city limits
Santa Paula unincorporated area towards Ventura- North of Foothill Road from Peck Road to Wells Road including: Wheeler Canyon, Aliso Canyon and Rancho Vista
City of Ventura - Teloma east to Brent Street, Telegraph Road north to north of Foothill Road
City of Ventura - Victoria Road east to Hill Road, Telegraph Road north to Foothill Road
City of Ventura - North Ashwood Avenue east to Hill Road, Telegraph Road north to Foothill Road
City of Ventura - North of Foothill Road from Wells Road to Poli Street
City of Ventura - North of Main Street from Seward Avenue to Hwy 33 (includes entire Ventura Avenue area)
Oak View - Boundary of Hwy 33, Creek Road and Hermosa Road
Entire Community of Casitas Springs - Evacuate to Ventura County Fairgrounds - 10 West Harbor Blvd., Ventura
East Ojai Valley - Carne Road east to McAndrew Road, Reeves Road north to Thacher Road
Upper Ojai Valley - Hwy 150 from Dennison Grade east to Osborne Road and all residences north
Ventura County North Coast Area - Boundary of Hwy 33 on the north to Casitas Vista Road, northwest to Hwy 150, Hwy 150 (Casitas Pass Road) west to US 101 and south on US 101 (including Pacific Coast Highway) to Emma Wood State Beach
Ventura County North Coast Area - Boundary of Hwy 33 on the north to Casitas Vista Road, northwest to Hwy 150, Hwy 150 (Casitas Pass Road) west to US 101 and south on US 101 (including Pacific Coast Highway) to Emma Wood State Beach
Voluntary Evacuations (as of 7:30 a.m. on Wednesday):
Residents in the City of Ventura, south of Loma Vista, east of Day Road, West of Victoria Avenue and north of Telegraph Road
Residents in the City of Ventura, east of Victoria north of Loma Vista South of Foothill west of Wells Road
All residents of the Ojai Valley not currently covered under the current mandatory evacuation
City of Fillmore: Boundary of 2nd Street north to 4th Street and Island View Street east to Pole Creek
City of Fillmore - Boundary of 4th Street on the south to Pole Canyon Road, Pole Canyon Road northeast to Goodenough Road, Goodenough Road south to 5th Street and 5th Street southeast to 4th Street
City of Fillmore - Boundary of Hwy 23 and the Santa Clara River south to Guiberson Road, Guiberson Road east to Torrey Road and Torrey Road north to the Santa Clara River