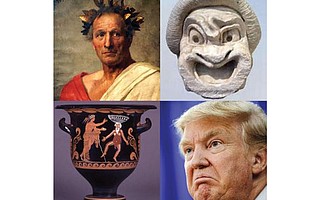 Wednesday, August 16, 2017
For those looking to feed their politic-based angst with art, don't miss Trumpus Caesar, the one-night-only comic impeachment of our current commander in chief. Written by UCSB theater professor Carlos Morton, Trumpus Caesar is based on Shakespeare's Julius Caesar — with a healthy, hilarious dose of modern-day government melodrama, according to Morton. While Shakespeare's Caesar is killed before he becomes emperor, Morton's Trumpus Caesar is elected to rule by the plebeians, and then impeached by a chorus of (Republican) satyrs hungry for power. "The Trump administration lends itself to this kind of political satire because it's such a disaster. Every week is a new twist or revelation," said Morton. "The play almost wrote itself because it's like a soap opera on steroids. I have to laugh to keep from crying," he added.
Directed by (and starring!) Irwin Appel, director of UCSB's Actor Training Program, this comic presentation of the plight of the president runs Thursday, August 24, at 6 p.m., at the Studio Theater at UCSB. Created with nods to the Shakespearean and Greco-Roman traditions, Trumpus Caesar, which is a free event, combines comedy, tragedy, and farce to spin a political yarn that is both timely and enduringly timeless.