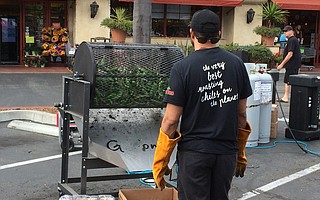 Saturday, August 12, 2017
The end of summer means the sight of roasting Hatch chiles along the roadsides of New Mexico, and Santa Barbara's Loreto Plaza is full of the smells and sounds of the charring chiles, at least till 3 p.m. today. The collaboration of Melissa's produce and Gelson's Markets places boxes and boxes of the mildly spicy, meaty peppers, roasting barrels, and a staff with menus, samples, and plenty of conversation mid-parking lot at State and Las Positas.
Grown in New Mexico's Hatch Valley, where hot days and cold nights produce a unique flavor, the chiles can be frozen for later use, even after being roasted, said Gelson's Steve Thomas, store director. The roasting happens on the spot through Saturday afternoon only.