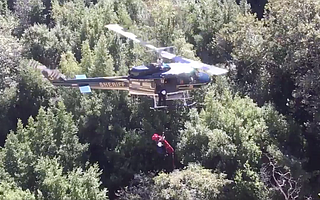 Originally published August 8, 2017 at 11:17a.m., updated August 8, 2017 at 12:45p.m.
On Sunday afternoon, a vehicle went off the side of Highway 154 near Windy Gap, a spot well known to first responders. The two occupants, a man and a woman in their fifties, were trapped in the vehicle 300 feet below the road, one for more than two hours, reported Captain Dave Zaniboni of County Fire. They were both hoisted out by helicopter and moved to Cottage Hospital with major injuries. During the rescue, a tree fell on top of the car, narrowly missing some personnel on the scene. The California Highway Patrol is investigating the cause of the incident.
[UPDATE] The CHP has released a report stating that Christopher Scott, 58, was arrested for driving under the influence and remains in Cottage Hospital with internal injuries. His passenger and wife, Mary Scott, 50, is in the hospital with head trauma. The accident occurred around 2 p.m. just east of Painted Cave Road. Headed east, or downhill, Scott had turned to the right, hit an asphalt curb, overturned down the hill, and the vehicle ended up on its wheels. Highway 154 was closed for two hours that afternoon while the rescues were effected. The investigation continues, stated Officer Jon Guttierez.