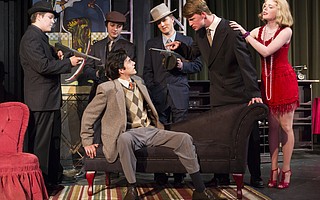 Wednesday, April 19, 2017
When Woody Allen first heard the songs Marvin Hamlisch had written for the Broadway musical adaptation of his 1994 film Bullets Over Broadway, he was disappointed. Reluctant to consider the project in the first place, Allen felt that even with the talented Hamlisch onboard, it still wasn't coming together. It was only when his sister, Letty Aronson, suggested that they try it again using period songs from the 1920s that Allen saw the light, and thus Bullets Over Broadway the musical was born. A little more than a decade later, the show premiered at the St. James Theatre, featuring new arrangements of a slew of great tunes from the Tin Pan Alley era, including "Tiger Rag," "Let's Misbehave," "There'll Be Some Changes Made," and "I've Found a New Baby." With distinctive choreography by Broadway darling Susan Stroman, the show ran in 2014 for more than 100 performances.
On Friday, April 28, the show will get a second premiere, this time in its first-ever high school staging, when Santa Barbara High's production hits the stage for a two-week run concluding on May 7. A recent visit to rehearsal revealed exuberant new choreography by Santa Barbara's answer to Susan Stroman, Christina McCarthy, and a large and enthusiastic cast practicing on an extraordinary stage featuring multiple levels, a rotating stage-within-the-stage, and even a realistic, water-filled mini-Gowanus canal. The show's broad humor, clever plotting, and unforgettable music make it a great choice for the deep talent pool perpetually available to S.B. High School Theatre teacher Otto Layman. Jon Nathan will direct an 18-piece orchestra situated on a second-story platform positioned above the action, and the show's many large-scale numbers will feature dozens of students singing, dancing, and even cartwheeling across the stage. For tickets and information, visit sbhstheatre.com.