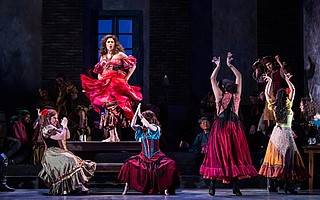 Tuesday, November 8, 2016
This splendid production of Georges Bizet's Carmen showed just how gloriously intricate and manifold an art form opera can be. From the opening overture, which featured sharply etched profiles of all the work's major themes, to the highly dramatic split-scene finale, which pits what we can see — Don José's final encounter with Carmen — against a simultaneously occurring bullfight that we can only hear and therefore must imagine, Carmen is one long procession of dramatic music and spectacular theatrical effects.
Mezzo-soprano Leann Sandel-Pantaleo was suitably commanding in the title role, singing beautifully while dancing flamenco on a tabletop when necessary, and challenging all men to hold a candle to her volcanic sexuality throughout. Bizet's composition encompasses multiple musical worlds, from the depths of the operatic tradition, through a remarkably durable Spanish idiom, all the way to sounds more reminiscent of Sousa than of Strauss or Wagner. The through line of this musical mishegas comes from Don José, here powerfully portrayed by tenor Harold Meers. José's journey from infatuation to homicidal obsession provides the strong core around which such diverse elements as the famous "Habanera" and "Toreador" songs and the delightful children's chorus can coalesce. Although it's often said that all singers who play Micaela benefit from the contrast between Carmen's mezzo and their audience-pleasing soprano voices, Jeanine De Bique more than earned the rapturous ovation she received for her dazzling performance in the role. Although Carmen the character is a hard case who meets a bad end, Carmen the opera remains one of the easiest of the great classics to love — and among the most rewarding.