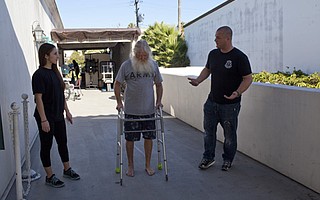 Wednesday, October 14, 2015
"We're doing something totally unique here by bringing physical therapy to the underserved community inside of a homeless shelter," said Luke Barrett (right) about Santa Barbara Community Physical Rehabilitation (SBCPR), the nonprofit he helped bring into reality. Located on the upper deck of PATH Santa Barbara, the one-year-old organization sees about seven people a day, helping the homeless and others without access to health care to overcome injuries. "You can't get into permanent housing if you can't move, and being in a wheelchair limits your housing ability," explained Barrett, "so we're helping people be more housing-ready."
For instance, Randy Burkhalter (center) is a patient who was living a self-sufficient life, but he had to hike to his residence. After shattering his heel three months ago, he was unable to live his life in the same way. The nonprofit evaluated his situation, created a plan, and is helping him return to life as usual. 
SBCPR also serves as a unique learning facility for students looking to enter a career in physical therapy, like Libby Cleghorn (left), and provides experience in charting and patient care. The all-volunteer staff includes five physical therapists, a primary care doctor, and an orthopedic surgeon. "The survival of the marginalized community depends on movement because of manual labor and moving around," said Barrett. "When you're already on the fringe, one injury can take everything away." 
To learn about fundraising events, see sbcpr.org.